How does 'Zoom university' affect our test scores
Due to the COVID-19 pandemic,  face to face lectures have become unachievable. In order to handle this unprecedented crisis, 'Zoom University' is deemed to be currently the only viable option we have that allows students to continue their education without the threat of COVID-19.
The University of Melbourne is undoubtedly no exemption. Ever since March, the uni has begun to transfer to a virtual teaching classroom. Then here comes one amazing topic: how does 'Zoom university' affect our test scores?

In this blog, I will briefly answer this question by giving you some novel observations combined with my own survey and experience.
To begin with, the online teaching narrows the gap of test scores between students. Technically speaking, the standard deviation of test scores becomes smaller. Since students save commuting time to the campus, they can spare more time studying when they study from home. Their study plan can be more flexible because they can just click the mouse to start studying whenever they want. Moreover, because of the strict travel restrictions, students have no choice but to stay at home and spend more time acquiring new knowledge through the Internet.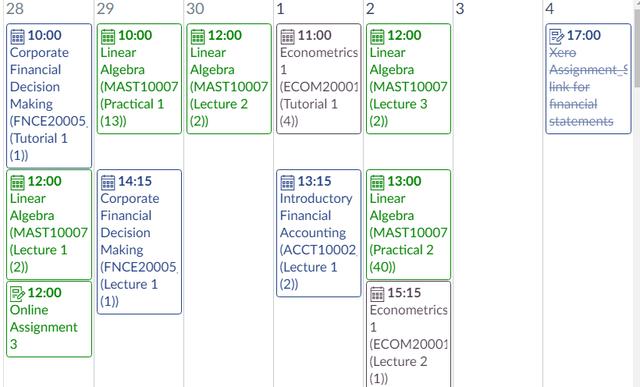 Meanwhile, e-learning can enhance learning efficiency to some extent. According to my own observations, a large proportion of my friends choose to divide the lecture recordings into several parts followed by the section and study these topics one by one. Pausing the recording and taking the notes instantly help them grasp the concept better without wasting extra time to revise the content repeatedly. As a result of the various factors listed above, it is likely that the gap in exam marks could be narrowed.

My other observation is that self-discipline students tend to make greater progress in academic performance and take the lead in all aspects(including soft skills, personality,etc.) during the lockdown period. Habit is a tenacious and large strength. Sleeping on time, getting up on time, following a schedule that is suited to your own lifestyle, and being serious about your own learning (keeping in mind that nobody is supervising you) will define your future growth. As for me, the process of making and following daily plans is really tricky at the beginning, but later, the sense of achievement of making full use of time gives me the incentive to insist on pursuing higher efficiency by making detailed schedules. Apart from studying, participating in business competitions, conducting charity activities online, or listening to a public webinar are all meaningful activities that we can join to improve ourselves during this special period.
At the end of this blog, I just hope that the vaccine can come out as soon as possible so that we can return to normal. After all, we all miss the face to face classes.